The Pond Lady
2 for 1 sale on most of our short fin Koi. We just brought up over 100 regular and butterfly Koi from our mud ponds. All Koi have been treated for parasites and are ready to go. Call us today, while we have a large selection of sizes and colors. Call Lonnie at (706)325-5698
Welcome to Oak Haven Farms "The Pond Lady" of Columbus, GA. For the past 20 - 25 years, it has been our pleasure to serve our customers in Columbus and the surrounding area with all their water garden maintenance needs. Now that we are retired, we are now focused on raising and selling high quality regular and butterfly koi. We also sell all types of aquatic plants, pond pumps and pond liners.
Until our mail order is set up, all koi and pond related items must be sold and picked up at our koi farm.
We just brought up from our mud ponds, some of the very best Koi we've ever raised. Our "Sale Tanks" are loaded with a wide variety of colorful Koi - regular fin and butterfly. This year we have decided to bring up some of our larger fish. We also have some exceptional looking gold and white and yellow and white Koi. Many of our customers have been waiting for these fish to finally be "for sale". Call us and be one of the first people to see these extremely gorgeous Koi today. (Updated March 23,2021)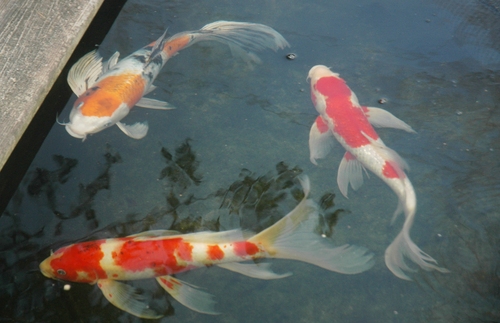 Owned & Operated by: Lonnie Ward
Lonnie has a degree in "Environmental Horticulture" and has been designing and maintaining decorative garden ponds and waterfalls for 15 - 20 years. We sell Imported Japanese Koi and raise Domestic Koi. (Butterfly and Regular Koi) Call for an appointment to come see our selection. (706)325-5698 Lonnie also has a "Veterinary Technology" degree and can work with local Veterinarians to help with sick or injured Koi or Goldfish in water gardens. (We do not work in fishing lakes or fishing ponds)
Glenn (Lonnie's husband) assists Lonnie with raising domestic and imported Japenese koi.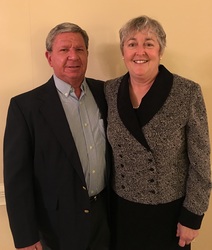 Our goal is to help our customers create their own water garden sanctuary, a place of natural beauty and serenity in their own back yard.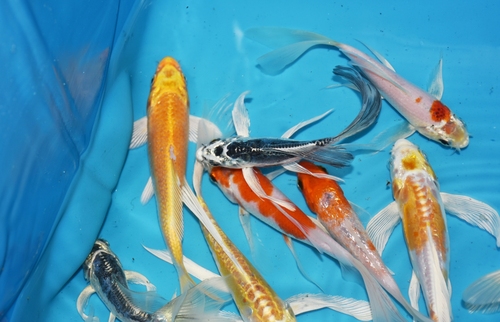 "Oak Haven Farms "The Pond Lady" has a variety of aquatic plants available. (We also have Lotus, Parrots Feather, Ornamental Grass and all kinds of Iris).
Sure, you can purchase a pre-fab pond at your local store or hire a general contractor to build a clunky structure of concrete and rock, but creating a no hassle custom pond garden that looks pristine and natural is what makes Pond Keepers the right choice for the job. We can provide you with all the supplies you will need to build or maintain your pond.
We charge a consultation fee for coming out to evaluate any problems you might be having with your pond or water feature. We also work with contractors who are considering building a small pond for a customer, so that they use the best environmentally safe filtration system and custom aeration system for the pond.
We raise and sell Regular Koi and Butterfly Koi for your pond. Please call us about Specials we may be running or come by for a visit to see our newest selections. (We have excellent prices, so don't miss out.) Contact "Lonnie" Ward - (706) 325-5698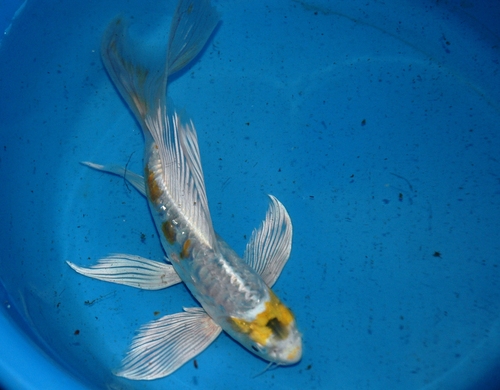 Our grandson Liam has been diagnosed with KCNQ2 (Epilepsy Gene Mutation), causing him to have seizures since birth. Liam's doctor says that he is only one of five in the United States with this disease. He is now severely delayed in his development and requires special medications and special medical equipment. If you would like to donate to help benefit Liam, our family would appreciate your donation and your prayers. Many, many, many thanks!
Checks payable to: Upatoi Baptist Church (for: Liam Trioche fund)
Upatoi Baptist Church, 13400 Macon Rd., Upatoi,GA 31829
To read Liam's full story go to: http://www.caringbridge.org/visit/liamtricoche