Glenn's Daylily Homepage
Nationally known Hybridizers and Award winning Daylilies
We Grow High Quality Hybrid Daylilies
We grow and hybridize hybrid daylilies. Daylilies are available "for sale" at the garden or you can have us pick them out for you and have them delivered.(There is a delivery charge - Delivery is limited to the United States only.) You can also pick them out from our "General Listing" section.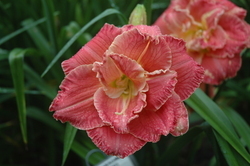 Visitors are welcome by appointment only. We sell potted hybrid daylilies for $5.00 each, in a 1 gallon pot. We also have potted roses, Lousianna Iris, etc.
Glenn and Lonnie have been growing and hybridizing daylilies for over 25 years and have won AHS National awards. Glenn has won national awards such as: The "AHS President's Cup", "AHS Ida Munson Award", AHS Region 14 Slide Show Award, the AHS "Region 5 Hybridizer Of The Year Award" as well as many "AHS Region 5 Photography Awards". Glenn & Lonnie are active members of the "Chattahoochee Valley Daylily Society" and both have won "Best In Show Awards" at AHS approved daylily shows.
Glenn and Lonnie are AHS Garden & Exhibition Judges as well as AHS Exhibition Judge Instructors. We are presently making changes to show off future introductions, a large variety of perenials and some really nice potted daylilies. We invite you to come by and visit our garden and see our selection of some of the finest daylilies grown anywhere. (Garden visits are by appointment only) We will be happy to dig from our many registered cultivars as well as some of our fine seedlings. (Seedlings are sold for $2.00 per fan and you must buy the whole clump, whether it is two fans in a clump or even twenty fans in a clump.) Our price list on the website does not have nearly all the daylilies in the garden that are for sale.) We can be reached by e-mail at:
glennward51@yahoo.com